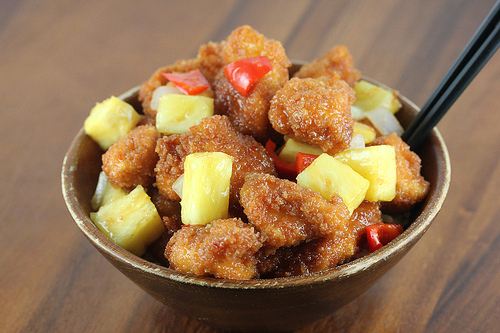 This recipe is apparently very similar to the Sweet Fire Chicken Breast from Panda Express. I have not actually tried this dish at Panda Express so I cannot comment on how close the taste is to the actual dish. The flavor of this recipe is very similar to that of sweet and sour chicken. The chicken is coated in panko breadcrumbs and then fried until golden brown. It is then tossed with a sweet sauce and served with pineapple chunks, sweet peppers, and onion. The dish does get a little bit of heat from the chili paste. This dish goes great served with white or brown rice.  Enjoy. Adapted from The Divine Chef.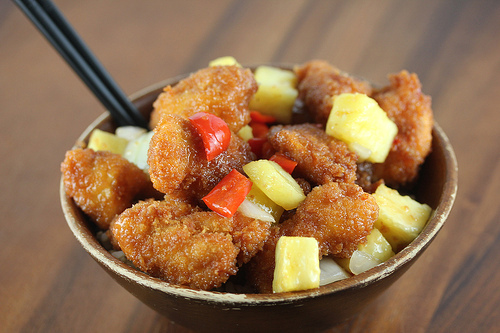 Ingredients:
2 boneless skinless chicken breasts (sliced into ½ inch chunks)
Oil (for frying)
2 eggs
2 tablespoons milk
1 cup flour
1 teaspoon salt
½ teaspoon white pepper
1 ½-2 cups Panko bread crumbs
Sauce-
½ cup lemon juice
6 tablespoons plum sauce
1 teaspoon chili paste
1 cup pineapple (sliced)
1 medium onion (sliced)
3 sweet pepper (sliced)
Cooking Instructions: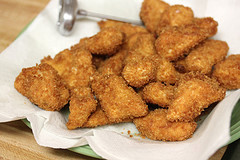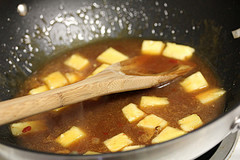 Step 1: Heat oil in a deep fryer for 375 degrees. In medium bowl whisk together
the eggs with the milk. In another bowl or shallow pie dish add the flour, salt, and white pepper. In another bowl or shallow pie dish add the panko bread crumbs.
Step 2: Roll the chicken pieces first in the flour mixture, then dip in the egg mixture, and then roll in the breadcrumbs. Repeat until all pieces of chicken are covered.
Step 3: Place chicken pieces into the deep fryer and deep fry in batches until the chicken pieces are golden brown and fully cooked (the internal temperature has reached 165 degrees). Drain on paper towels. Repeat until all of the chicken is cooked.
Step 4: Add about 1 teaspoon of oil to a wok or skillet and heat to medium-high heat. Add sweet pepper and onion and stir fry in about 2 minutes. Add the lemon juice , plum sauce and chili sauce. Bring to a boil. Reduce heat and simmer for 1 minute. Stir in pineapple chunks. Mix the sauce with the chicken and serve immediately.
(Makes 4 Servings)